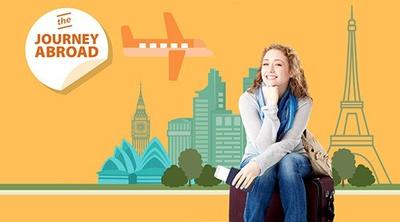 For some, leaving home to study abroad can be a scary thought. Rest assured that once you get acclimated, the new culture and rich educational experiences will help outweigh your fears. However, with the comforts of home hundreds, sometimes thousands, of miles away, it's important to travel smart. Here are some tips to help prepare for safe and healthy travel abroad.
1. See your doctor before you leave.
In the months before your journey, make an appointment with your regular doctor to ensure you are leaving in good health. Tell your doctor where you are traveling to and how long you plan to be away. By doing so, your doctor can make sure you have all the necessary vaccinations and, if you're taking any prescription medications, that you'll have an adequate supply for your trip.
2. Photocopy important documents.
No matter where you travel, it's always a good idea to keep a copy of your passport, travel tickets, student ID, and credit and insurance cards in a safe, alternate location (in case you misplace your wallet or purse). You may also consider leaving a copy with your family back home so that they can readily send them to you in an emergency.
3. Always carry a local map.
In the age of smartphones, chances are you can get yourself around with no problem. However, sometimes service can be unreliable or your phone may act up. By keeping a local map on hand, you can avoid ending up in the wrong part of town. Study the map before you leave (or discreetly while in public) to avoid looking lost or confused—which can make you vulnerable.
4. Don't flash money.
You may feel compelled to keep your money with you at all times; after all, you never know when you may stumble across that perfect souvenir. Unfortunately, it's a choice that can make you susceptible to pickpocketing. Try to keep the majority of your money in a safe back in your room. If you need to carry a large amount of cash with you, consider putting it in multiple places (pockets, purse, wallet, etc.).
5. Travel in groups.
Going out to see the sights? When exploring a foreign town or city, it's best to travel in groups. Not only does it offer a sense of familiarity, it can help keep you safe. In the event that you're traveling somewhere alone, always let someone know where you're going.
See if the country you plan to study abroad in makes the list! View the Safest Countries to Live In the World>
This blog post content is authored by ETS, the maker of the TOEFL® Test.