The thought of studying abroad starts to sparkle in your mind ever since you're in high school. Time goes by, and even if you pursue your Bachelor studies in your home country, that idea sticks with you and you begin to wonder if maybe you should actually pursue this dream.
Still, you may be a little afraid and have some doubts. Don't worry! Everyone does. Going abroad for your studies is a huge step and probably one of the most important life-changing decisions you'll make.
You might be asking yourself thousands of questions, but if you have even a remote desire to go abroad, you should just go for it! Embrace the adventure because there is literally nothing to lose. If you still need some convincing, here are seven basic reasons that will clarify your mind and make you start looking for some study abroad degrees.
Find and compare 89,825 Bachelors worldwide
1. Travel and see the world with your own eyes
One of the main reasons for you to consider studying abroad is the possibility of seeing the world. You will have the opportunity to explore and visit new places that you had never imagined before (national landmarks, museums, etc.). Remember, you're not just on a simple visit, you actually get to live in a foreign country for a while. This means you have plenty of time to see all the attractions and check out the surroundings and nearby cities as well.
In addition, you can easily visit neighbouring countries. For example, if you decide to study anywhere in Europe, you can cross borders with the incredibly connected train system.
Don't know where to start? Here are just a few countries with great English-taught degrees just waiting to be discovered:
2. Embrace and experience a new culture first hand
We all grow up in our own culture, traditions and way of doings things. When you decide to study abroad, you get to see other perspectives and cultures and that is always an interesting and fascinating thing.
You might experience cultural shock and not know how to deal with it. However, the shock won't last too long and getting to learn more about different customs, food, and social atmospheres is just another way of enriching and expanding your horizons. Plus, it's a great opportunity for you to share your own culture with the people you meet.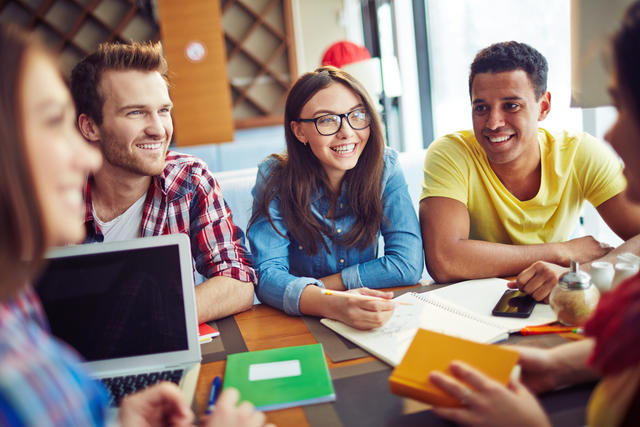 3. Make friends from around the world
One of the biggest benefits of studying abroad and embracing an adventure is the chance to meet people from all around the world. You may find it hard to believe, but you can actually make new friends, this time from different backgrounds and countries.
Nowadays, keeping in touch with people from different continents is fairly easy and accessible. You can either use Facebook, Skype, Facetime or WhatsApp to maintain your friendship. What's even better about making worldwide friends, is that you have an additional reason to keep on travelling and visit them.
Read the stories of these students that studied abroad:
4. Learn a foreign language
Many of you are probably planning to study abroad with the main purpose to improve your language skills or start learning a new language. Even if that is not your goal, it's impossible not to attain at least basic conversational skills in a new language, while living abroad. You get to listen to locals, learn their slang and common expressions and constantly practice with them. Usually, your host university offers accredited language courses to help you adjust to the new language, learn proper grammar and pronunciation.
Don't forget that, if you don't want to learn a new language, there are a lot of English-taught degrees offered in non-English-speaking countries.
5. Enhance the value of your degree and your career opportunities
Another important benefit of studying abroad is that you can add this experience to your resume. This will help you stand out from the crowd if you plan to progress with your studies and enrol in another university or when applying for a job.
In an increasingly globalised society, any kind of international experience will inevitably increase the chances of a thriving career. Employers are multi-national companies always look for employees who can easily communicate and understand international contacts or clients.
Since you gained strong communication skills and an intercultural awareness, you'll be among the preferred candidates, for any job you choose to apply. Check out more information about careers that await you after graduation:
6. Expands your views beyond borders
It might sound a cliché to you, but studying abroad will make you a much worldlier person, and become a more marketable and understanding person. Studying abroad is one of the most eye-opening, mind-bending, life-changing experiences a student can have.
When you study abroad you learn about new people, cultures, perspectives, all which help you expanding your view of the world. For instance, every year the U.S. Education Department organizes the International Education Week. Here you can read and find additional information and resources to help you studying abroad.
Find and compare 59,494 Masters worldwide
7. Boosts your self-confidence and gain independence
Finally, another benefit of studying abroad and embracing an adventure is learning about yourself. Being in a new place by yourself can be difficult at times, and it tests your ability to adapt to different situations. This means that you will learn how to be independent, and mature and you will become more confident and grow as a person.
You will learn what you're good at, as well as what you're not so good at. You will probably become keener to explore and discover new places and things while studying abroad.
Being an international student definitely has more benefits than the ones mentioned above. You can only discover them once you choose to study abroad yourself. So start looking for Bachelor or Master degrees worldwide and don't be afraid to make your dream of studying abroad come to life!