In terms of popularity, France is listed as one of the top destinations for international students. Home to some of the world's best universities, students are also drawn to France as they can practice or improve their French, visit famous museums and experience the typical "à la française" lifestyle.
One major benefit which students studying in France will enjoy is the country's fee system.
1.Tuition fees
Tuition fees at public universities in France have variable prices depending on your chosen study level. For the first degree – Bachelor programmes, the average for tuition fees is 190 EUR per year. Engineering degrees have higher tuition fees of around 620 EUR per academic year, while the average tuition fees for medicine studies can lead to 452 EUR per year.
View and compare 934 Master programmes in France!
The same situation applies for Master and Ph.D. programmes; while the average fees for a Master are around 260 EUR/year and for a Ph.D. 396 EUR/year, you should expect higher fees for certain specialised degrees.
Students will pay more at Frances highly selective grandes écoles and grands établissements (great schools and establishments), which set their own fees (about 500-600 EUR per year).
Private universities charge annual tuition fees between 1,500 and 6,000 EUR.
In the case of business schools, regardless the degree level, fees cost between 5,000 and 7,000 EUR a year.
Depending on whether they are public or private, the grandes écoles' annual tuition fees range on average from 500 and can lead to 10,000 EUR.
2. Living costs in France
The overall living costs in France depend on your lifestyle but most of all, they depend on your chosen location, mainly the French city you live in.
As expected, Paris is the most expensive French city; check the average budget you would need for each of the large cities in France:
Paris: between 1,050 and 1,200 EUR/month (sometimes even including the accommodation, if you choose to live in a student hall of residence)
Nice: between 700 and 920 EUR/month
Lyon, Nantes, Bordeaux or Toulouse: between 650 and 850 – 900 EUR
For the rest of France, you can survive with smaller amounts (at least 600 EUR).
Check this
detailed list of prices in France.
View and compare 135 Bachelor programmes in France
2.1. Accommodation
Prices for accommodation are usually above the international average of 200 – 300 EUR/month.
The main housing options for students in France are:
Student halls of residence –between 150 and 600 EUR/month, depending on the university, included facilities if the room is private or shared. Around 13% of international students live in student residences.
Rent/share an apartment –between 400 and 700 EUR/month, while in smaller French cities you can rent a small apartment for about 300 EUR/month.
If you will live with your partner and/or child(ren), the price for rent would range from 700 to 1,000 EUR/month, and you could pay higher if you choose an apartment in the city centre. The utility bills (electricity, water, the internet) would be another 200 EUR/month.
Host family –you can find rates that are only 200 EUR/ month to about 800 EUR/month in Paris. However, they all include at least one meal per day.
As far as the satisfaction rate regarding accommodation conditions in France, around 58% of the international students are satisfied, which is just a small percent below 60%, the average rate for Europe.
2.2. Food costs
French food is delicious, sophisticated and the common conception is that it is expensive as well. That may be because the French truly value every meal and they make it seem like they are always celebrating something when they eat. However, food is not pricey all over France.
One person can expect to spend on average about 200 – 250 EUR/month on groceries in Paris, less in the provinces.
The average price for a meal in the least expensive restaurant costs between 15 and 20 EUR. In gourmet restaurants, menus can be even more expensive. Desserts are sometimes not detailed on the menu, but the most common are fruit tart (such as apple tart, tarte aux Pommes), crème caramel, ice-cream (glaces), with prices from 6 to 8 EUR.
A more affordable option where you can have a meal anywhere in France are the bistros, brasseries and crepe stands. Some bistros serve substantial meals and a crepe can take the place of lunch and prices are from 2 to 5 EUR.
A common custom of French people is to buy fresh food, that means not buying from the supermarket very often, which may lead to somewhat expensive food bills. Although you will get the best value if you buy from the supermarket, once in a while you can try one of the pleasures of living in France and buy from its famous markets.
2.3. Transportation
The price of a bus or metro ticket may vary from 1 – 1.70 EUR, but many cities offer discounts if you buy a weekly, monthly, or annual pass. A monthly pass on bus, metro or tram is usually somewhere between 17 and 33 EUR.
In Paris, the metro is the easiest way to travel and taxis are also relatively inexpensive, around 1.25 EUR/km and you would spend 7 – 10 EUR for a short journey. In Paris, you can also rent a bike through the Vélib bicycle rental programme, but Bordeaux is the city in France most bike friendly.
You can also use the TGV to visit other cities in France for around 20 – 25 EUR a trip.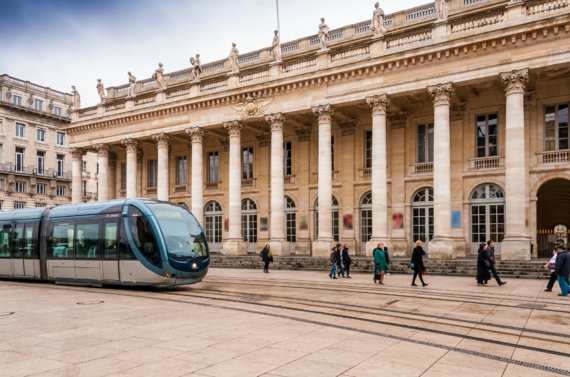 2.4. Extra costs
You would have to pay a healthcare mutual insurance, which is from 20 to 50 EUR/month, according to the chosen cover.
The average amount you would have to pay for books or other learning materials would be 50 EUR/month.
3. Scholarships
Scholarships for international students are offered by some universities, by the French Ministry of Foreign Affairs or the French embassy from your country.
1. Some universities offer 10,000 EUR scholarships per year to students that are maximum 30 years old the year of acceptance and who satisfy criteria of academic excellence.
2.The French Ministry of Foreign Affairs offers scholarships through The Eiffel Excellence Scholarship Programme, mainly for students who enrol in Master's (1,181 EUR/month) and Ph.D. courses (1,400 EUR/month).
French Embassy grants
Grants offered by the French embassy are variable according to each country, so it is better to always get in contact with the embassy in your area to see which programmes might apply to you.
Most grants are awarded on the basis of financial need to students that are less than 28 years of age. The amount awarded for the need-based grant depends on the assessment of social criteria and varies between 1,606 and 4,600 EUR per year. The merit-based grant ranges from 1,800 to 6,102 EUR. At the same time, those eligible for a grant receive exemption or reduction in health cover.
Loans are also available with a maximum amount of 15,000 EUR, but less than 0.1 % of university students take out such a loan.
Parents are eligible for tax relief if students are financially dependent on them and are less than 25 years old. The amount of tax relief is proportional to the amount of taxable income of the household.
More information about studying in France.
4. Tips for saving money
Try to avoid accommodation in the city centres, as it is always more expensive.
In France, students under 25 are eligible for discounts. For example, if you purchase an international youth travel card, you can get major discounts to visit sights around France.
Make your groceries from the cheapest supermarkets in France: these are Leclerc, followed by Géant Casino.
International restaurants, unlike the classic French ones, usually serve meals at affordable or even low prices. You can try self-service restaurants, a famous chain is Courtepaille, or American-style diners, such as Buffalo Grill, and if you're looking for a reasonable restaurant in Paris, you should try Michi.