Shiv Prasad is currently pursuing an MSc in Aerospace Vehicle Design at Cranfield University. He found this programme and enrolled via StudyPortals. We asked Shiv Prasad about his experience of searching and applying to a university abroad.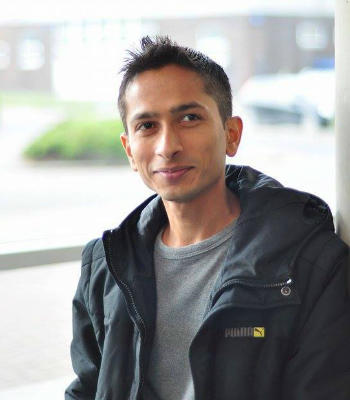 About you
Tell us a bit about yourself. What is your name? How old are you? Where are you from?
I am Shiv Prasad, 28 years old, from India.
Where are you studying now? In which university and programme are you enrolled in? What degree and how long is your programme?
I am studying MSc in Aerospace Vehicle Design at Cranfield University. It is a yearlong program focusing on aircraft design.
Why did you want to study abroad?
I wanted to study this course abroad because of the expertise offered. The Aerospace Industry is an industry where global coordination is vital along with the technical niche. Global and cultural diverse groups of students, understanding and celebrating the different people from different backgrounds, are priceless experiences offered, apart from the advance of becoming accustomed with new technologies.
Searching for study options
How did you find your study programme? Why did you choose this particular university? How did StudyPortals help you?
Well, while searching for different universities and schools abroad, I was finding it difficult to go to a particular university website, to check out the program. Fortunately enough, I was able to find the StudyPortals website. This site's user interface and information are put together in such a way that it's easy to see and compare different courses, their fees, their structure, eligibility and other requirements.
Did you know about that university and/or programme before seeing it on StudyPortals?
I had a very faint idea about the university. I probably heard about the university once or twice during conversations with people.
On what stage of application were you using StudyPortals? Did you miss any important information on StudyPortals?
Right from the start date of the application to the day I received my conformance of admission I was using StudyPortals.
Deciding for a university
What were your main priorities when choosing your university and your programme (e.g. academics, accommodation, university services & facilities, personal & professional development, city & culture, cost & funding, practicalities, social life)?
I already had an experience of 4.5 years in the Aerospace Industry, hence I wanted a program which can provide me a practical exposure and the duration was also important for me. Other parameters which helped me in choosing the university are the accommodation, funding and ease of application, as well as the help offered by the university during the admission time right from application, visa to accommodation.
Was this your first study choice? What other universities did you consider? What was the main reason of your final choice?
This was one of the main options for me. Other options I considered were RTW Achen Germany, ISAE Toulouse.
Did you know from the start that you wanted to study in that particular country and city? Why did you choose for this particular location?
I didn't have the idea of the location when I started to apply for the MSc. This location I choose because of industry feedback, friends advice and alumni from the university.
Did you take a language test (e.g. TOEFL, IELTS) when applying for the programme? If yes, which one did you choose, why and how was your experience with it?
I chose to write TOEFL when applying for this program. I chose it because I was familiar with the test pattern, and it was available close to my home. I had a little hiccup when the exam centre would not allow me to take the exam because I did not have a kind of passport photo they required, which at that time was not with me.
Recommendations
What would be your advice for students from your country that consider to study abroad?
My advice would be to carefully choose the course depending upon their personal passion, expertise offered by the university, alumni feedback and future prospects along with visa regulations.
How did you finance your stay abroad and what financial advice would you give to future students?
I tried to get scholarships but I was not offered any. Hence, I had to finance myself by taking a loan from the bank. The course fees for non-EU students are high and hence I had to apply for a loan.
Why would you (not) recommend this particular city / university? How would you rate your experience on a scale from zero to ten (0 – It was a total disaster, 10 – I had the time of my life)?
I would rate my experience an 8.
Is there anything that you would do differently if you could do it over again?
I probably would have enquired more about other universities in Germany and France. The expenses are high and visa regulations for working to gain the exposure and experience are very hard.
What was the biggest surprise in your study abroad adventure?
I was able to meet people from different countries and make new friends for life.
Were you inspired by the story of Shiv Prasad?
Find 7,142 Master's programmes in Engineering and Technology