Hrachya is currently pursuing his Master's degree program "Materials and Processes of Sustainable Energetics" at Tallinn University of Technology. He found his programme and enrolled via Studyportals. We asked Hrachya about his experience of searching and applying to a university abroad.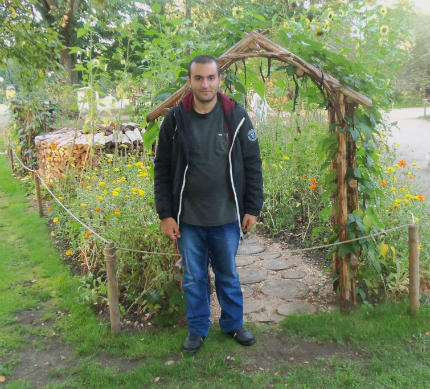 About me
My name is Hrachya and I am 21 years old. I am from Armenia. Currently, I am studying at Tallinn University of Technology in Tallinn, Estonia. I am enrolled in a two-year long Master's degree program: "Materials and Processes of Sustainable Energetics". There are two main reasons why I decided to study abroad. First, there is no programme about renewable energetics in my country, and I was sure I wanted to become a professional in this field. The other reason is that I wanted to study in an international environment, meet students from different countries, learn about their countries, culture and people, as I believe that in a modern society this is necessary for a person's overall development.
Searching for study options
Time for my graduation was near, so I was looking for programmes abroad. That is when my sister told me about StudyPortals. I immediately searched and found several programmes in different countries. After reading information for every programme on StudyPortals, I selected a couple and started to read in detail about the application procedure, curriculum, university, etc. Then I caught myself thinking that I like the programme offered by Tallinn University of Technology. I talked to my sister again, told her about the programme and, since she was a volunteer in Estonia for a year, I asked her to tell me about the city and country. I decided that this programme is my choice and started my preparations to apply. I am sure that StudyPortals played a decisive role, since I had never heard about this programme or the university, before.
Deciding for a university
After choosing some programmes on Studyportals I started to explore the universities, courses offered, and read about cities and countries. Coming from not a very rich country, I was also looking after tuition and funding opportunities. Keeping in mind the academics as a main criteria, I found out that other sides like accommodation, university infrastructure, cost of living are also very suitable for me. After some days of searching and reading feedbacks I decided that Tallinn University of Technology is the best and the only choice for me. I was also looking for a research university.
For my programme, English language proficiency was mandatory for application, so I had to take a test. For students from non-EU countries the application deadline is very early, so I had to take the first available test day. I decided to take TOEFL, as during my English classes in university I had a chance to practice taking the exam. I must mention that even taking the test was something special for me. When I tried to register for a test, I figured out that I have to travel to the neighbour country Georgia in order to take the test at a close enough date. It turned into a new adventure, as I used that chance to visit interesting places in Tbilisi.
Recommendations
Studying abroad can be a challenge for anyone. One should be well prepared and ready for any unexpected situations, so good research even before choosing a study programme is necessary. My advice would be to use StudyPortals to do the basic research and continue with asking questions, as many as needed. I believe I did good research, as I was able to find scholarships and apply to cover my costs in Tallinn. Without getting a scholarship it would be very hard for me to take care of myself right now.
I would surely recommend others to choose to study in Estonia and Estonian universities. Estonians are very friendly, they have a unique culture and there is a lot to learn besides the chosen field of study. Estonia is one of the leading countries in the area of technologies, so it is worth doing research here. The only surprise can be the weather. Compared to my country, the weather here is cold, but summer is great, with nice weather and great nightlife.
If I was to make a decision again, I would surely choose Estonia. I had a study plan and here I have a chance to fully carry it out. My research study here will surely help my future professional growth. The biggest surprise for me was the room equipped with the latest technology, where I could also conduct my work. It was and continues to be adventurous to create new materials and test them. Also, I have learned a lot from my friends from different countries. This experience cannot be replaced with anything.
Were you inspired by the story of Hrachya?
Find 7,151 Master's programmes in Engineering and Technology