Pola is currently pursuing her Master's degree in International and Comparative Education at Stockholm University. She found the programme and enrolled via StudyPortals. We asked Pola about her experience of searching and applying to a university abroad.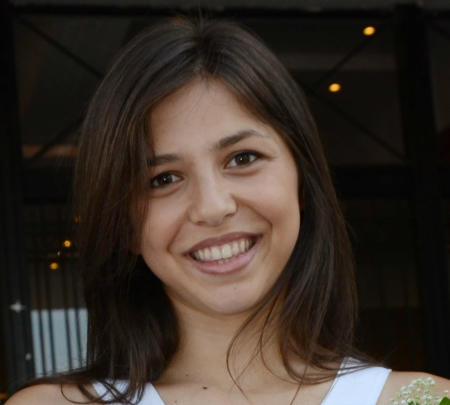 About you
Tell us a bit about yourself. What is your name? How old are you? Where are you from?
My name is Pola and I am a 24 year-old girl from Greece.
Where are you studying now? What university are you attending and what programme are you enrolled in? What degree are you pursuing and how long is your programme?
I am currently pursuing my Master's degree in International and Comparative Education at Stockholm University, in Sweden. The programme lasts for two years. I enrolled in 2013 and this June I will hopefully be a Master's degree holder.
Why did you want to study abroad?
Ever since I started studying for my Bachelor's degree I had an itch to go abroad. My Bachelor's is in English Language and Literature and reading always took me away from where I lived. The first opportunity to go and live abroad even for a short period of time was when I applied for the ERASMUS programme. With it, I went to Ireland at the University of Limerick and had an amazing time. To me, travelling is all about meeting new people and cultures. Hearing and seeing things from another perspective other than my own and the people's surrounding me is always fascinating to me. Travelling opens new doors and provides the opportunity for a more adventurous life, filled with excitement. Since I didn't have the necessary experience to start working at the time, I started looking for opportunities that would take me abroad in terms of studying. After ERASMUS, since I was almost done with my Bachelor's, I felt that a Master's degree was needed. I couldn't be more excited about it, sitting in front of the computer for days on end, imagining what my next destination would be for the next 2 years. For a person hit by wanderlust, choosing just one place isn't the easiest thing in the world to do. However, after much research and changing my mind a few times, I decided on my next residence: Sweden it was!
Searching for study options
How did you find your study programme? Why did you choose this particular university?
While looking for Masters abroad, I had no idea about the programmes and courses that were offered. All I knew was that I wanted to be somewhere in Europe. One day, I came across StudyPortals and that shed a lot of light into my research, as this became my guide for everything that had to do with studying and courses. It was through StudyPortals that I found the country I wanted to go to, the programme I wanted to enrol to and all the qualifications I needed for each specific programme.
I saw that Sweden was one of the countries where students from the European Union did not have to pay any tuition for their studies. That was the first criterion for my choice of country. Other than that, I already had friends there, so I thought that this could be fun and I would always have someone I knew close by. Having narrowed down my options to Sweden, after I literally looked into every programme in every country, I had to choose the place. That was an easy one. I would go to Stockholm where the access was easier from anywhere. This was a very important factor to me, as it meant that I could also travel easily to other places. Stockholm provided a number of programmes, and thanks to StudyPortals I could view everything in one place, so I wouldn't have to look into all the different programmes by visiting all the websites of the university. Thus, after I decided on the course, I did more research by going on their website and double-checked the information given on StudyPortals. Everything was correct and nothing was missing. I can't describe how helpful it is to have everything you need in front of you on one website!
Did you know about that university and/or programme before seeing it on StudyPortals?
I was not aware of either the programme or the university until I saw it on StudyPortals. Couldn't have made a better decision.
Deciding for a university
What were your main priorities when choosing your university and your programme (e.g. academics, accommodation, university services & facilities, personal & professional development, city & culture, cost & funding, practicalities, social life)?
My main concern and therefore priority was were the tuition fees for the university. Other than that, I was sure I could adapt anywhere. In addition, the cost of life was one thing that concerned me as well, but I learned that there are ways to go by without having to spend a fortune.
Was it your first study choice? What other universities did you consider? What was the main reason of your final choice?
This university and programme were my first choice and I couldn't be happier when I got admitted.
Did you know from the start that you wanted to study in that particular country and city? Why did you choose for this particular location?
At first, I had no idea where I wanted to study, but after doing a lot of research on StudyPortals I made the best decision for me.
Did you take a language test (e.g. TOEFL, IELTS) when applying for the programme? If yes, which one did you choose, why and how was your experience with it?
I had to take IELTS, and got a score of 7. I think that of all it is the easiest one and the most recognized globally. In my opinion, it was not very difficult and the components are simple (reading, listening, speaking and writing).
Book an IELTS test in your country!
Recommendations
What would be your advice for students from your country that consider to study abroad?
Do it! Considering that Greece is not doing so well now, I would suggest that you go abroad because you may find more opportunities. Other than that, try going abroad even for a while, because by staying in one place you might be missing out on some experience that you might like even more!
How did you finance your stay abroad and what financial advice would you give to future students?
My parents have always supported me and I am very grateful for that. I couldn't have done it without them. However, I have also started working part-time so that I can contribute. I would suggest that you look for a job if your programme allows you and it's not very hectic. This way you combine work and studies. However, be careful because sometimes students that do both might get stuck on work and put all their effort into that, leaving out their goal of obtaining a degree.
Why would you (not) recommend this particular city / university? How would you rate your experience on a scale from zero to ten (0 – It was a total disaster, 10 – I had the time of my life)?
10! It is amazing and I would recommend Stockholm to everyone!
Is there anything that you would do differently if you could do it over again?
I would do it over and over again the same way! I wouldn't want to change anything!
What was the biggest surprise in your study abroad adventure?
That it's been 2 years now and I can't believe I lived away as a student for 2 years. I made it and I am excited!
Were you inspired by Pola's story?